Here are some post-pandemic vacation trends that real estate investors need to know:
Vacationers might start preferring houses to hotels because they won't be required to interact with people outside of their group.
Staycations will continue to increase in popularity because, once again, too many activities outside of the safety of their rooms will cause vacationers to interact with other people, increasing their chances of contracting the virus. Moreover, vacationers might prefer a relaxing vacation in general.
Travelers will prefer smaller towns and communities over bustling cities and urban and trendy areas.
These trends show that vacationers might prefer booking an Airbnb over something more traditional like a hotel or a named bed-and-breakfast. The post-pandemic vacation landscape will put Airbnb properties at the forefront of the best and safest places to stay in.
Now is a great time to contact your agent, ask them to help you find the best mortgage rates, and look into some trendy and luxurious design ideas for an Airbnb.
Select a specific demographic
Like every business, you need to identify which sector of society you're targeting as guests for your Airbnb since that's the jumping-off point from which you can make certain design decisions. The whole point of a rental or an Airbnb is that you cater to your guests' specific and unique needs, compared to hotels that can be pretty generic.
Choosing a specific demographic should be the first step of your design process, so before you choose a property, let alone approve a blueprint, you need to know who you are planning to market your rental towards. Here are some examples of certain demographics you need to choose from: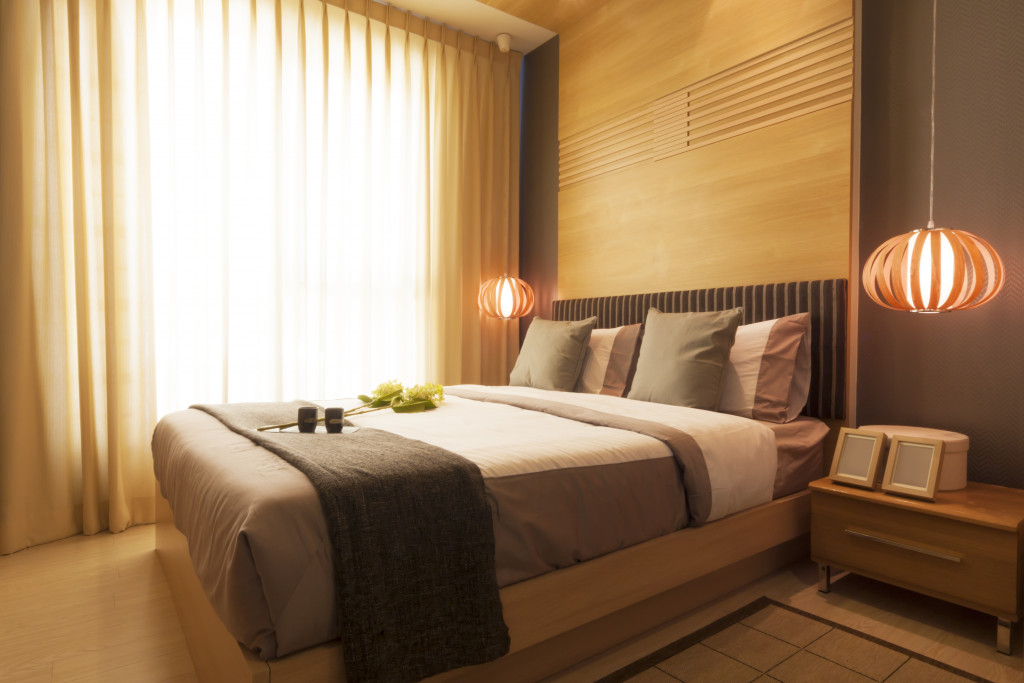 Couples
Families with kids
Digital nomads or remote workers
Generation Z
Millennials
Vacationers with pets
Having a target market in mind will not just help you narrow down your design choices in terms of functionality but also for aesthetics, so take the time to sit down, do thorough market research and analysis, and present your findings to your interior designer when it's time to construct the space.
Maximize the location of the property
When deciding on the property's aesthetics, both exterior and interior, you need to keep the location's natural terrain in mind. The design of the property should complement and reflect its location. For example, if your property is on the outskirts of a mountain, then a gorgeous rustic cabin design or a modern take on it will be the best design option.
Prioritize experience through storytelling
Most rental owners think that guests prefer a generic space to stay in, but if they truly wanted that, everyone would be choosing hotels over Airbnb rentals. While there is room for the sameness of hotels in the hospitality industry, there is also a market for interesting and niche rental spaces. To let your Airbnb stand out, consider elevating your guest's experience by telling a story through the design of your rental. Here are some tips to achieve this:
Think of a passion, hobby, or advocacy that's near and dear to your heart, and let that narrative influence all of your design choices. For example, suppose you are passionate about veganism or vegetarianism. In that case, you can consider turning your property into a mini-farm where guests can learn about planting and consuming their own produce. It would also be a fun and non-self-righteous way of telling people about the benefits of your chosen lifestyle—how it can improve their lives and protect the planet as well.
Another way you can tell a story is through the artwork in the house, especially if you are knowledgeable about art.
Family heirlooms and history can also make for an interesting narrative. If you come from a family of immigrants, or if your ancestors have an interesting history, consider inundating the space with that story through pictures and other artifacts. Just make sure not to include anything that could compromise your safety and privacy right now.
Add a corner for productivity
Even if remote workers or digital nomads are not your target market, it would still benefit your rental if it had a comfortable desk with outlets. If guests see it on your page, they might be more inclined to choose your rental in case they suddenly have to do emergency work.
The pandemic has changed how vacationers travel and rest. Stay up to the minute not just on emerging trends but also on the general sentiment of guests so that you can always pivot and give them the best and most relaxing vacation experience of their lives.